Spiderman vs The Kingpin est un jeu produit par Sega of America et développé par Technopop en 1991 pour Megadrive, Master System et Game Gear. Dans toutes les versions, c'est un jeu de plateforme dans lequel nous allons contrôler le super-héros. En 1993 sortira une version pour Mega CD qui inclura de nombreuses améliorations, parmi lesquelles un développement moins linéaire, deux niveaux de plus et quatre autres têtes finales. Il est également connu comme Spiderman The Amazing vs The Kingpin ou simplement Spiderman.
La version de Megadrive, sur laquelle je vais me concentrer, comme je l'ai dit est un jeu de plateforme dans lequel Spiderman va sauter, frapper, lancer et grimper. , contrairement à d'autres jeux mettant en vedette le spiderman, prendra des photos pour payer le liquide arachnide. Lorsque nous jetterons des réseaux ou que nous passerons d'un bâtiment à un autre en utilisant le fluide, ce sera dépensé. Heureusement, nous avons une caméra avec laquelle nous pouvons supprimer les instantanés des ennemis. Plus l'ennemi est important, plus il nous donnera d'argent pour lui. Donc, ceux qui nous paient le plus seront pour les ennemis finaux et pour Venom, qui apparaîtra de temps en temps pour rendre la mission plus difficile.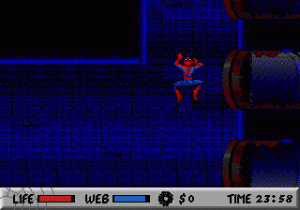 Techniquement, on ne peut pas dire que c'est le jeu Spiderman avec les meilleurs graphismes, mais Ils sont plutôt bons, et les scénarios sont assez variés pour passer un moment divertissant. La musique et les effets sonores sont également bons, et accompagnent parfaitement l'action.
L'histoire du jeu nous dit que le criminel connu sous le nom de Kingpin a volé une bombe nucléaire et l'a placé quelque part dans la ville. . Mais à la télévision on dit que c'est Spiderman qui a mis la bombe, et qu'elle va exploser en 24 heures, et offre une récompense de 10 000 $ pour celui qui parvient à l'attraper. Dans le même temps, Venom kidnappe Mary Jane Parker, alors épouse de Peter Parker. C'est pourquoi nous n'aurons pas d'amis dans tout le jeu, et nous serons attaqués à la fois par des voyous et des meurtriers et par la police. Notre mission sera de trouver les 5 clés nécessaires pour désactiver la bombe, gardée par un total de 6 super-vilains, qui seront le Dr Octopus, le Lézard, le Sandman, le Gobelin, Electro et Venom, et sauver Mary Jane des griffes de Kingpin, l'ennemi final du jeu.
En résumé, c'est un jeu de grande jouabilité, très divertissant et de grande qualité. Tout un classique.
6 Cartons d'invitations The Amazing Spiderman 12 x 12,5 cm Taille Unique

Ce lot sous licence officielle The Amazing Spider-man contient 6 cartes d'invitation et 6 enveloppes en papier.    Les cartons…

Bougie d'anniversaire The Amazing Spiderman Taille Unique

Cette bougie Spiderman est sous licence officielle The Amazing Spiderman.    Elle mesure environ 8 x 3 x 10 cm. …

6 Sacs de fête The Amazing Spiderman 17 X 23 cm Taille Unique

Ces 6 sacs cadeaux sont sous licence officielle The Amazing Spiderman.    Spiderman, l'Homme-araignée, est représenté dessus dans sa combinaison…

Alien Vs Predator Jeu De Plateau The Hunt Begins Expansion Pack Facehuggers*Anglais*

Achetez ce produit et cumulez des SuperPoints à dépenser sur PriceMinister! Retrouvez tout l'univers enfant_jeux-societe au meilleur prix sur PriceMinister.…

Pop! Vinyl Lot de 2 Figurines Pop! The Office - Toby vs Michael

Cette Lot de 2 Figurines Pop! The Office - Toby vs Michael est un produit Funko officiel !

Marker Ski Bindings Marker Kingpin M-Werks 12

Hybrid alpine touring bindings with low weight and high performance The M-Werks edition of the KingPin is a lighter model…

Steam Holy Avatar vs. Maidens of the Dead Steam CD Key

Demi-god Holy Avatar and his Guild of Maidens are taking a trip to his recently bought holiday island u201cHoly Islandu201c.…

The State Of New York Vs. Derek Murphy

Achetez ce produit et cumulez des SuperPoints à dépenser sur PriceMinister! Retrouvez tout l'univers musique_cd au meilleur prix sur PriceMinister.…

Goliath iTop Forces of Nature: Ice vs Fire - Spel

Goliath iTop Forces of Nature: Ice vs Fire - Game Choose a side with the i-Top - Forces of Nature…

DISNEY Star Wars Transporter vs X-Wing Fighter Hot Wheels

Star Wars Transporter vs X-Wing Fighter Hot Wheels With this Star Wars Transporter vs X-Wing Fighter Hot Wheels you can…

The Loar LM-600-VS

The Loar LM-600-VS, Mandoline, Style F, Table bombée 1 pièce en épicéa, Fond en érable flammé, Eclisses en érable massif…

The Loar LM-520-VS

The Loar LM-520-VS, Mandoline, Style F, Table bombée en épicéa massif, Fond bombé et éclisses en érable massif, Manche en…

Epiphone The Dot VS

Epiphone The Dot VS, Guitare électrique, Semi-acoustique, Modèle ES-335, Ouïes en ""F"", Corps en érable, Manche collé en acajou (Swietenia…

The Loar LM-700 F-Mandolin VS

The Loar LM-700 F-Mandolin VS, Mandoline, Style F, Table bombée en épicéa AAA, Fond et éclisses en érable flammé AAAA,…

The Loar LM-600-VS B-Stock

The Loar LM-600-VS / B-Stock, Mandoline, Garantie complète, Style F, Table bombée en épicéa, Fond en érable flammé, Eclisses en…

Steam Ultimate Marvel vs. Capcom 3 Steam CD Key

Marvel and Capcom join forces to deliver the most frenetic 3 vs. 3 tag battles ever with Ultimate Marvel vs.…

Steam MX vs ATV Reflex Steam CD Key

Think fast and hang on to your ride as you take independent control of the rider and take the ultimate…

Steam Battle vs Chess - Dark Desert DLC Steam CD Key

Dark Desert Map and RuneRunner Mode Again the armies of the Kings meet! Between the dusty graves of long forgotten…

Steam Aliens vs. Predator Collection Steam CD Key

Bringing the legendary war between two of science-fiction's most popular characters to FPS fans, AvP delivers three outstanding single player…

Steam MX vs. ATV Supercross Encore Steam CD Key

Rip, jump and scrub your way to victory with over 35 tracks in this vastly extended version! Only the Encore…

Steam MX vs ATV All Out Steam CD Key

All Terrain, All Vehicles, All You! MX vs ATV All Out is the complete off-road racing and lifestyle experience! Choose…

Steam Battle vs Chess Steam CD Key

Commanders, assemble your armies! BATTLE vs. CHESS calls for an interactive feather duster, chartering the successful chess game principle into…

Steam Battle vs Chess - Floating Island DLC Steam CD Key

Floating Island and Master Campaign The brand new Master Campaign awaits you! Only one can be the Grandmaster, will you…

Steam Marvel vs. Capcom Infinite Steam CD Key

GAMEPLAY OVERVIEW The epic clash between two storied universes returns with Marvel vs. Capcom: Infinite , the next era of…

Origin Plants vs. Zombies: Garden Warfare Origin CD Key

Winner of 10 E3 Awards, Including Best of E3 and Best Shooter. Plants vs. Zombies Garden Warfare digs into the…